Financial
Financial is a mainpart of doing business. There is money coming in and money going out. These two cashflows are represented by the Invoices application and Expenses application, respectivly. Those application represent the administrations for debtors and creditors.
Invoices
Office includes an administration for your invoices. Whenever you send an invoice to a client, register it in Invoices to keep track of who payed and who did not.
The invoicelines can be added manually or by importing them from the time registration. This last option gives the possibility to add all registered hours to your invoice in just a few mouseclicks.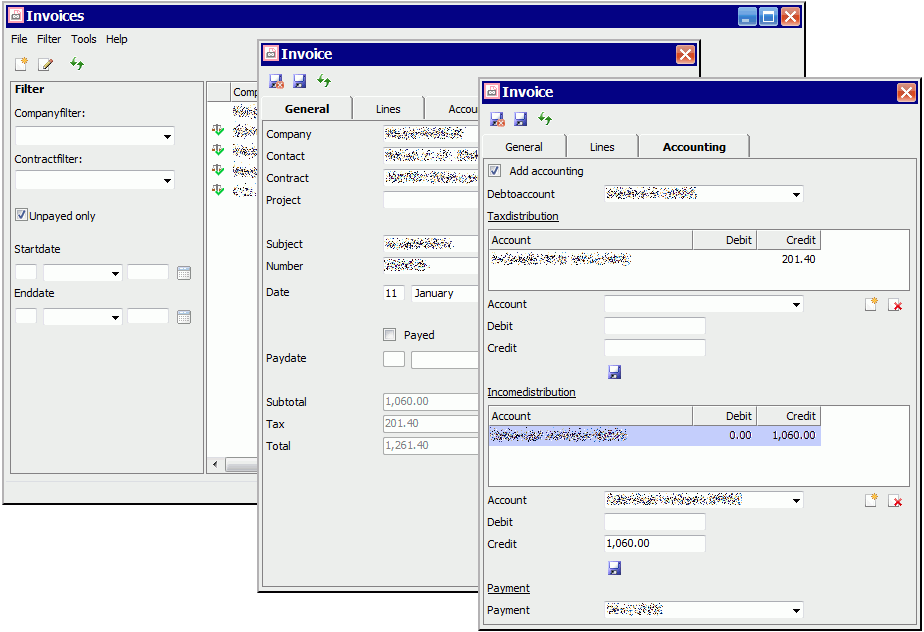 The invoices can be directly added to the accounting using the tabsheet 'Accounting'.
Invoicenumbers
The invoices are given numbers in an intelligent way. The last numeric part within the invoicenumber is automatically increased and when the year changes and the year is part of the invoicenumber it will start from one (1) again, the year is automatically changed to the current year. The formatting of the invoicenumber (leading zeros, textual additions) will be preserved.
Examples of invoicenumbers: '2010.0123', 'I20100123', 'I.2010.0123 (invoice)'.
Generating PDF
With the menuitem "Save as document..." in the mainwindow, an invoice can be easily converted into an invoice in PDF-format. Based on a template which you can make and edit yourself using the application Document Template Builder, the PDF is generated including all formatting. On the XsDesktop Repository storage you can find examples of templates for invoices.
Expenses
Beside invoices a company has expenses too. Use Expenses to manage them.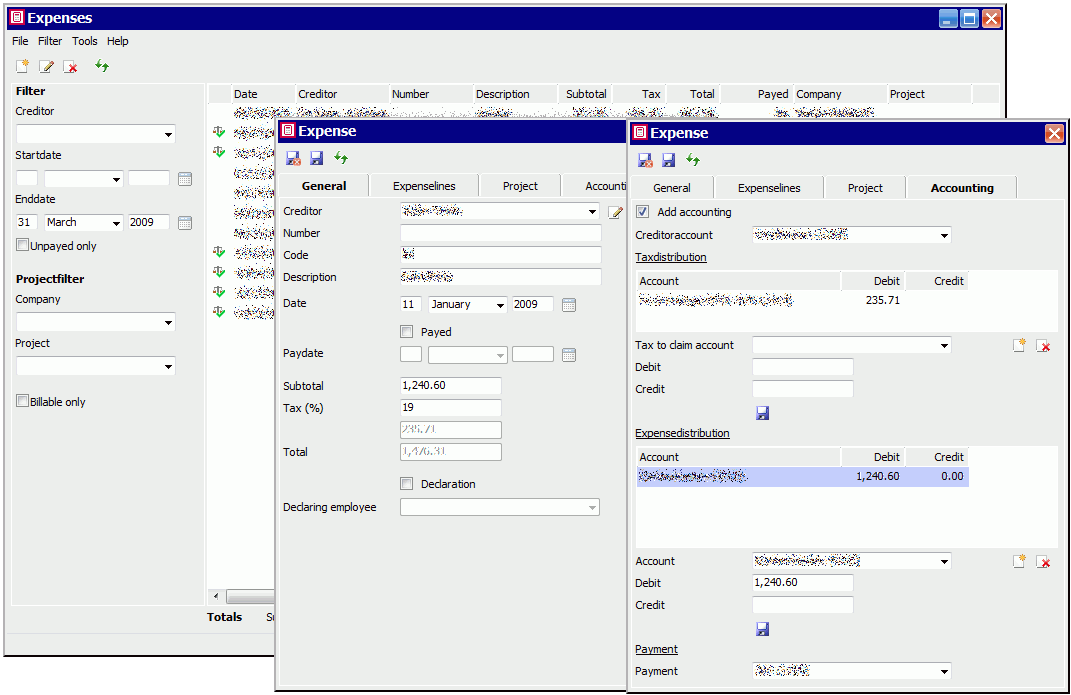 Expenses can be linked to a project which enables you to set a filter on the list of expenses and find out what expenses have been made for a certain project. Beside the project, expenses can be filtered on the company, if they are billable or not, the creditor, if they are payed or not and of course a timespan. In any combination. And the filter will also be applied when downloading the expenses.
The expenses can be directly added to the accounting using the tabsheet 'Accounting'.
Accounting
And last but certainly not least in the financial range of applications there is Accounting. The basic idea behind accounting is the movement of money between ledgeraccounts using journalentries. Accounting offers this functionality. You can manipulate journalentries, create them for taxpayments, finishing periods and so on. Except for debtors and creditors, which are handled by the Invoice and Expenses application.
Check Accounting for more information.
Other
Beside the applications above, Office has some other financial applications, like the generation of a report for VAT-payment for dutch companies. Based on the invoices and expenses it will generate a VAT-payment exactly like the one of the government, simply copy the values and you are done! Other reports will follow, if you need one do not hesitate to contact us!